On Sunday night, the Sacramento County Office of Emergency Services ordered residents in unincorporated Wilton, which has a population of more than 6,200, to evacuate immediately.
"Flooding is imminent," the order said. "Out of an abundance of caution, residents must leave now before roads become impassable. Rising water may spill over onto the nearest roadways and cut off access to leave the area."
The office also warned of strong winds in the Wilton community, southeast of the city of Sacramento.
Santa Barbara County issued an immediate evacuation order to the entire Montecito community Monday. The Montecito Fire Department's website crashed because of high traffic following the order.
"Please stay tuned to our social media channels for updates," the department tweeted.
Santa Cruz County officials issued an evacuation warning for certain areas, noting that heavy rains and runoff were expected starting Sunday evening through Tuesday. Residents in low-lying areas were told they should be prepared to evacuate and move to higher ground.
The warnings come as California continues to grapple with deadly severe weather. At least six people have died since New Year's weekend, including a toddler killed after a redwood tree fell, crushing a mobile home in Northern California.
More than 100,000 utility customers in California were also left without power Sunday evening after torrential downpours and high winds battered the northern part of the state.
As of early Monday, the number had grown to more than 111,500 utility customers without power, according to the online outage tracker PowerOutage.us.
California utility company PG&E said at a news conference it has been trying to prepare for the storms since before New Year's Eve and are working diligently to return power to customers. Adam Wright, PG&E's chief operating officer, called it their largest response to a storm to date.
But it might take time to assess and repair the damage caused by the "historic series of storms," Wright warned.
"Trees weakened by the drought and saturated soil have come down. flooding and mudslides have affected many areas," Wright said. "This has created a double whammy if you will a loss of power from downed wires and poles and restricted access to make assessments and repairs."
Gov. Gavin Newsom declared a state of emergency Wednesday as California was pounded by heavy rain and snow, causing flooding across the state. The declaration allows local jurisdictions and state agencies to respond to the changing weather more quickly.
Climate change has made extreme precipitation in California twice as likely, with extreme weather predicted to generate 200% to 400% of surface runoff, rainwater that cannot be absorbed by soil, by the end of the century, according to research by the UCLA environment and sustainability department.
Wade Crowfoot, the state secretary of natural resources, said Sunday that January's weather has been "supercharged by climate change."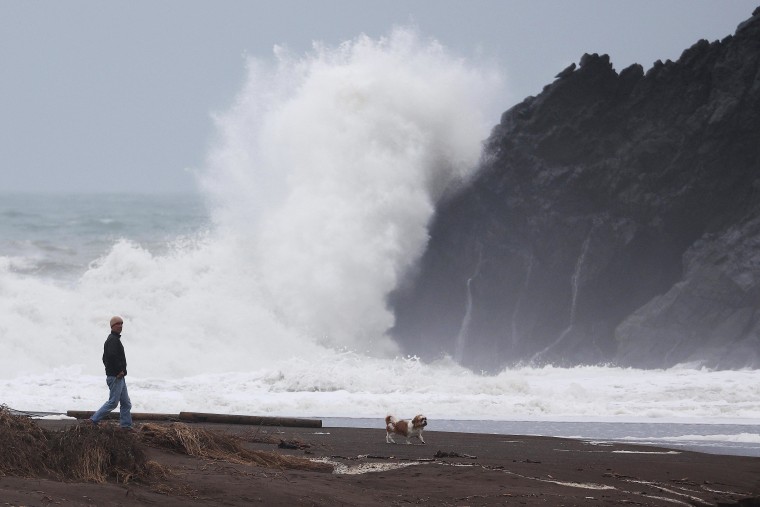 Over the coming days, the Sierra Nevada is expected to see heavy snow exceeding 6 feet across higher elevations before snowfall winds down Wednesday morning, according to the weather service.
Extremely heavy snow and intense snowfall rates in higher terrain parts of the Sierra Nevada are expected to make travel very dangerous and potentially impossible at times, it said, warning drivers to prepare for possible road closures.
Accumulating snow could also increase the threat of avalanches and put a strain on infrastructure, while gusty winds could lead to downed trees and further power outages in the state, it said.
"Residents and visitors across this region are advised to check their local forecast, never drive across flooded roadways (Turn Around Don't Drown!), and have both an emergency kit and evacuation plan in place," the weather service said.
CORRECTION (Jan. 9, 2023, 8:40 a.m. ET): A previous version of this article misstated the last name of California's natural resources secretary. He is Wade Crowfoot, not Crawford.
Leila Sackur, Doha madani and The Associated Press contributed.